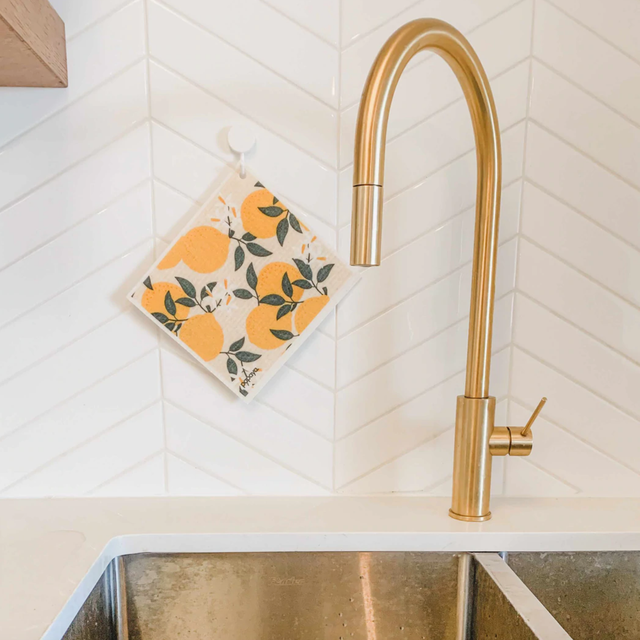 With a bigger spotlight on environmental issues such as climate change, global warming, water and air pollution, amongst others, more people are looking for simple ways to become more environmentally conscious while reducing their carbon footprints. For some, it's making them painfully aware of how wasteful they've been. The good news is, if you're notorious for using too many paper towels, there's an easy solution that's better for the environment — and more cost-effective, too. Enter: reusable paper towels.
Considering the ease and convenience of traditional paper towels, it may be hard for people to pull away from them, but the advances made to the best reusable paper towels on the market have made the transition easier. From larger sheets, beautiful designs, dishwasher-safe, quick-drying, and easy-to-store options, there are eco-friendly paper towel products with features to suit every clean-up need. With a plethora of quality options available, the hardest question to answer is, "Which one should I pick?"
Fortunately, we've rounded up a selection of the best reusable paper towels around to help you make the sustainable switch. Once you find the right one, you may never cry over spilt milk again. And considering you won't be tossing used paper towels, you may find yourself taking the garbage out less frequently — which just might be one of the easiest cleaning hacks.
Our top picks:
Advertisement – Continue Reading Below
1
Best Overall
Swedish Dishcloths (Set of 5)
Top-rack dishwasher safe
Biodegradable, recyclable, and compostable
One cloth replaces 17 rolls of paper towels
Good for scrubbing
Some reviewers note a slight smell before the first use
There's no shortage of cleaning options when it comes to these powerhouse reusable Swedish dishcloths. Made of 70% wood pulp cellulose and 30% cotton, these can be boiled, soaked in bleach, or safely cleaned in the top rack of your dishwasher (up to 200 times, according to the company). The brand also claims that each cloth can absorb up to 20 times its own weight in liquid. With over 1,000 5-star reviews, buyers rave about the quality, size, ease of use and easy cleaning.
"LOVE these!!!! They go in the top rack of the dishwasher, no sitting around and getting mildewy. Front and back have different textures for different levels of scrubbing. Plus they're so cute!!!" one customer review reads.
2
Most Budget-Friendly
Bamboo Towels (20 Sheets)
Very absorbent
Machine washable
Great for cleaning up water-based liquids
Attract lint when washed and dried
Need to find a place to store once off the roll
Reviewers note that these are rayon made from bamboo
These versatile bamboo towels have over 7,000 reviews on Amazon, with a 4.3 out of 5 overall rating. They come perforated like a traditional paper towel roll, but once you've ripped one off, you can use it again and again. Users rave about the effectiveness in the kitchen, bathroom, living room, and more, noting that they are "super absorbent."
Another positive reviewer wrote: "Durability is great and when they get stinky I wash them in the dishwasher and I get more time out of them! Environmentally friendly is a huge plus and I will be saving a lot of money too!"
3
Best Organic
MioEco Organic Reusable Paper Towels (10 Towels)
Machine washable
Absorbency improves with every use and wash
100% Global Organic Textile Standard certified
Some reviewers note these shrink when washed
This MioEco washable and reusable paper towel alternative is made with organic cotton. With over 2,000 reviews and a 4.4/5 overall rating on Amazon, the company claims that one reusable cotton towel is equal to 130 traditional paper towel rolls. Because they are bleach- and dye-free, some reviewers favor using these to dry fruit before eating, or as napkins during meals. Others say they appreciate the waffled texture which allows for easy scrubbing and clean-up.
As one five-star review notes: "They are a nice size that is in between a larger towel and the smaller 'shop rag' size. They are sturdy, soft, neutral in color, and absorb well."
4
Best Bamboo
Full Circle Tough Sheet Reusable Bamboo Towels (30 Sheets)
One roll replaces up to 30 traditional paper towel rolls
Quick drying
Work well with cleaning sprays
They don't feel like traditional paper towels
These bamboo towels are easy on the eyes with a pretty tree bud print, and on your skin as well as the Earth, since they're chlorine-free. According to the company, each sheet can absorb seven times its weight and is equal to one tradition paper towel roll. (So, one roll = 30 rolls of traditional paper towels!) Reviewers note that they are super fast drying, stand up after washing, and are durable enough for deep cleaning.
"I got a roll recently and I LOVE IT. I've used them to help me deep clean, and they always rinse out clean! These things can take a beating, trust me. If you're on the fence, don't be! They're amazing!" writes one 5-star reviewer.
5
Best Compostable
Papaya Reusables Squeeze the Day (2 Sheets + 1 Hanging Hook)
100% compostable and all-natural
One sheet replaces 17 rolls
Quick drying and doesn't hold odor
Can be hand-washed, go in the top rack of the dishwasher, or be machine washed (air-dry only)
Must wet to soften before each use
Pricier than some options on the market
If you're looking for a reusable paper towel that doesn't get tossed in the corner to go unused for weeks, this is it. With the hook that comes in each package, each all-natural towel can go from a magical cleaning accessory to beautiful decor instantly. Plus, hanging on the hook makes drying between uses extremely easy and convenient. With over 1,200 reviews and an almost perfect 5-star overall rating, users love these cute and effective reusable paper towels. Made from 70% cellulose and 30% cotton, they are 100% compostable, so they won't sit in a landfill.
"It feels clean and there's no residual odor at all," says one happy customer. "No more stinky sponges for me!" Another reviewer writes: "These are actually absorbent, don't smell, and doesn't add to our laundry pile!!"
6
Best Cotton
Marley's Monsters Reusable UNpaper Towel Roll (24 Towels)
Towels get softer and more absorbent with every wash
Can hang, roll, or fold
Fun patterns and colors
Not as absorbent as traditional paper towels
Some reviewers note difficulties keeping on the roll
Expensive (though they are handmade)
For anyone who wants to ditch paper towels but can't seem to let go of the idea of the "roll," these 100% cotton flannel "UNpaper" towels are for you. Handmade in Oregon, the reusable towels cling to each other, making them easier to roll up and store on a traditional paper towel holder. The edges are serged for durability and to prevent fraying. It's also important to note that absorbency increases after the first few washes. Some reviewers mention that you shouldn't use fabric softener when washing.
One reviewer writes: "This is a GREAT product! I love the fact that I am not constantly throwing away paper towels after a wipe here or there. They wash up really well, and dry well, lay them flat and bam! All done and feel better."
7
Best Antibacterial
Nette Reusable Towels (Set of 2)
Sustainably made with natural Eucalyptus fibers
Antibacterial
Compostable and fair-trade
10x more absorbent than paper towels
Must wet to soften before each use
Do not have a eucalyptus scent
Some reviewers would prefer less "cutesy" design options
Nette is a reusable paper towel alternative made from Eucalyptus fibers. They come in a variety of cute designs, and the company claims that each towel is durable enough to lasts up to a year, replacing 17 traditional paper towel rolls. Along with making chores like grease cleanup, dishwashing, and window cleaning a breeze, these can be cleaned in the dishwasher when dirty, and composted once you've used them to their full extent. Plus, the durable cleaning tool is also antibacterial and odor-free, ensuring it will likely always smell as pretty as it looks. You can even use them to replace paper napkins!
One 5-star review reads: "Absorbent and easy to use. These little pieces of towels are seriously amazing. I can't believe how absorbent and versatile they are. We replaced the paper towels and sponges in our house with these, and not only are they cute but they're functional as well. Love them."
This content is created and maintained by a third party, and imported onto this page to help users provide their email addresses. You may be able to find more information about this and similar content at piano.io
Advertisement – Continue Reading Below