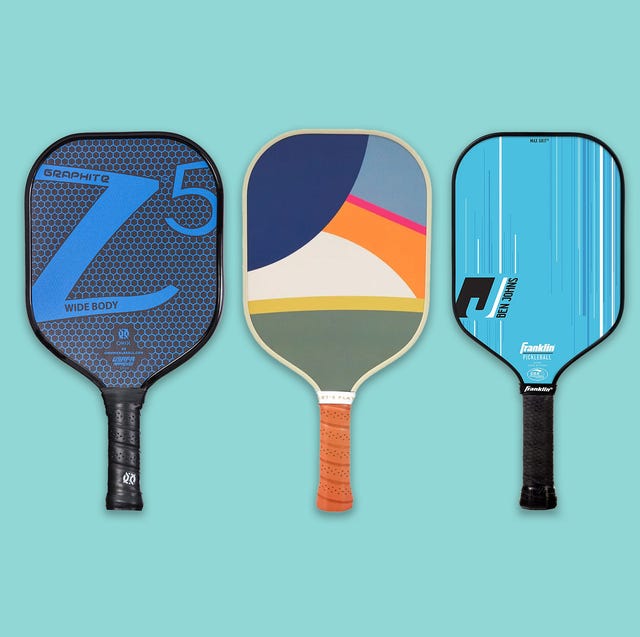 courtesy
Chances are you have a friend or family member who recently picked up pickleball. According to the 2022 Sports & Fitness Industry Association Single Sport Report on Pickleball, the sport grew in 2021 to 4.8 million players nationwide and is the fastest-growing sport in America, and for good reason. Pickleball is a social way to stay active since the sport can be played casually with friends indoors or outdoors. Beginners will find it relatively easy to learn, and more experienced players will appreciate that the game can get fast-paced and competitive.
With the growing popularity of the sport comes an increasing amount of options for pickleball paddles and equipment. Although most paddles may look similar, they can be extremely different and significantly impact your performance on the court. "Friends' recommendations are good, but personal experience trying out candidates for your next paddle is best," says Carl Schmits, Managing Director of Equipment Standards & Facilities Development at the USA Pickleball.
"Many beginners will start with a mid-weight composite or graphite paddle and will most likely change as their game evolves or as they become more aware of their game strengths," says Jones Wong, USA Pickleball East Assistant Director of Ambassadors. "If someone is coming from another racquet or paddle sport where they are used to playing with power, they will lean towards composite paddles."
Whether you're looking for the best pickleball paddles for beginners or consider yourself an advanced player, our list has top-rated picks for all levels. Here are the best pickleball paddles of 2022, according to fitness experts.
Our top picks:
You can learn more about how we evaluate pickleball paddles — and tips for selecting the best pickleball paddle for you — at the end of this guide. We also answer all of your questions on the different types of paddle materials, the best ways to care for your paddle, how often to replace it and more.
Advertisement – Continue Reading Below
1
Best Overall Pickleball Paddle
Onix
Z5 Pickleball Paddle
Learn more:
| | |
| --- | --- |
| Face | Graphite |
| Core | Nomex |
| Weight | 7.5-8.2 oz |
| Length | 15.5″ |
| Width | 8.125″ |
| Grip Circumference | 4.25″ |
2
Best Value Pickleball Paddle
Niupipo
Pickleball Paddle and Cover
Learn more:
| | |
| --- | --- |
| Face | Graphite |
| Core | Polymer |
| Weight | 8 oz |
| Length | 13.5″ |
| Width | 7.9″ |
| Grip Circumference | 4.25″ |
3
Best Pickleball Paddle for Beginners
Selkirk Sport
S2 Midweight Pickleball Paddle
Learn more:
| | |
| --- | --- |
| Face | Fiberglass |
| Core | Polypropylene |
| Weight | 7.9-8.4 oz |
| Length | 15.75″ |
| Width | 8.0″ |
| Grip Circumference | 4.25″ |
4
Best Pickleball Paddle for Intermediate Players
HEAD
Radical Elite Pickleball Paddle
Learn more:
| | |
| --- | --- |
| Face | Graphite |
| Core | Polypropylene |
| Weight | 8.1 oz |
| Length | 16″ |
| Width | 7.875″ |
| Grip Circumference | 3.785″ |
5
Best Pickleball Paddle for Advanced Players
JOOLA
Hyperion CFS 16 Pickleball Paddle
Learn more:
| | |
| --- | --- |
| Face | Carbon Friction |
| Core | Polymer |
| Weight | 8.4 oz |
| Length | 16.5″ |
| Width | 7.5″ |
| Grip Circumference | 4.25″ |
6
Best Stylish Pickleball Paddle
Recess
Vista Pickleball Paddle
Learn more:
| | |
| --- | --- |
| Face | Fiberglass |
| Core | Polypropylene |
| Length | 15.67″ |
| Width | 7.8″ |
| Weight | 7.5-8 oz |
| Grip Circumference | 4.25 |
7
Best Pickleball Paddle for Power Play
Franklin Sports
Signature Pickleball Paddle
Learn more:
| | |
| --- | --- |
| Face | Fiberglass |
| Core | Polypropylene |
| Weight | 7.5-8 oz |
| Length | 16.5″ |
| Width | 7.5″ |
| Grip Circumference | 4.25″ |
8
Best Elongated Pickleball Paddle
Selkirk Sport
Invikta Pickleball Paddle
Learn more:
| | |
| --- | --- |
| Face | Toray carbon fiber |
| Core | Polypropylene |
| Weight | 7.7oz – 8.2oz |
| Length | 16.5″ |
| Width | 7.375″ |
| Grip Circumference | 4.25″ |
How we selected the best pickleball paddles
We evaluated a variety of pickleball paddles, looking critically at materials, control, spin, playability and more. We took into account a variety of considerations when putting this list together and made sure to include options for beginners, intermediate players and competitive athletes. All of our top picks are approved by USA Pickleball.
Under Wong's recommendation, we looked for paddles with a weight between 6.0 to 14.0 ounces. Schmits says that if a paddle is too light it may not have enough mass to prevent twisting on off-center shots and will transmit unwanted vibration. On the flip side, he adds that an overly head-heavy paddle may require more torque to snap through and can quickly fatigue muscles and slow down hand speed.
We felt it was important to highlight pickleball paddles of all different price points, especially inexpensive high-quality options for casual players or those new to the sport. We also looked for paddles with colorful and unique artwork and patterns that will get new players excited to get on the court.
How to choose the best pickleball paddle for you
Wong says that paddle characteristics, individual player physical capabilities, experiences, cost and personal preferences will drive paddle selection. The three major categories of paddles to choose from include:
Wood Paddles: "These are often a good option for schools, camps, community centers and YMCAs due to their durability and low cost," Wong says, but he adds that players may be more prone to arm fatigue due to their heavy weight.
Composite Paddles: Wong points out that these types of paddles have a core of nomex, aluminum or a polymer with a thin surface of carbon fiber or fiberglass.
Graphite Paddles: These may have a core similar to the composite paddles but with a thin layer of graphite Wong explains.
Paddle cores are also of important consideration. The different types of paddle cores include:
Aluminum Cores: These are strong and light to provide more touch and shot finesse, but Wong points out that they are more prone to dents.
Nomex Cores: "They consist of cardboard in a honeycomb arrangement dipped in a strong resin. These paddles are hard and loud sounding but generally provide power and speed with shots."
Polymer Core: Wong says that this type of core uses a blend of plastic to create quieter paddles. He adds that due to their ability to dampen shots, they tend to be preferred by "control" players.
Schmits says that the acoustic profile of those aluminum and nomex is typically higher pitched and louder than polymer, which can be a critical issue if used in HOAs or municipal courts near residential areas.
Is a more expensive or thicker paddle best?
"While more expensive paddles may have better quality materials, there are now so many good paddle manufacturers making very acceptable paddles in the under $90 – $150 range," Wong says.
"Inexpensive starter paddles are great as an entry into the sport as you learn the rules, get involved with a local club and ideally identify what your playing style is or could be with practice and/or lessons," Schmits says. "The latter will drive your search for your next paddle, which could be just a few weeks into your new sport."
When it comes to thickness, there may be an advantage to choosing a thicker paddle. "In the last few years, some of the manufacturers have developed thick paddle cores which seem to absorb shots, and thus support more finesse play," Wong explains. "Depending on their surfaces, they may also generate additional spin."
Can the right pickleball paddle prevent injuries?
Since a typical pickleball session can last about two hours, Schmits says the right paddle can play a role in preventing injuries. He adds that the most common injuries related to equipment choice are tennis and golf elbow.
"Grip size, paddle weight and swing weight (how the weight is distributed) all contribute to the efficiency and comfort of the human-paddle interface," Schmits explains. "A grip that is too small may require an over-clenched grip to prevent spinning in the hand."
Schmits recommends picking up a few demos or a friend's paddle, then clearing a space around you and taking a few phantom swings to find a couple of paddles that fall into that ideal zone for you. "Take them out onto the court for a play test on a few ground strokes, dinks and volleys – you'll find one that feels just right."
How to care for a pickleball paddle
Schmits recommends wiping down the paddle face once a week with water to prevent the accumulation of dirt. "Do not leave paddles in any location that can reach high temperatures," he says, like a car trunk during the warm summer months.
"As with any equipment, its longevity is dependent on the user and frequency of use," Wong says. "Since pickleball paddles have no strings to replace (as in a tennis, racquetball racquet or squash), they should last a while."
But he adds that paddle surfaces can develop "dead" spots and edge guards can be scrapped or damaged during play and over time. "As a player's game evolves, they may decide to replace their paddle with one that will augment their game of power, finesse or a combination thereof."
Why trust Good Housekeeping?
Stefani Sassos has been working in the fitness industry for the past 10 years, specializing in indoor cycling and strength training. As a NASM-certified personal trainer, she uses her expertise and exercise science knowledge to create informed fitness content for Good Housekeeping.
From vigorously testing exercise equipment and workout apps to curating workout plans for GH readers, Stefani is passionate about leading an active lifestyle and inspiring others to do the same. She loves that pickleball is a fun and social way to stay active and get moving.
Advertisement – Continue Reading Below